After the installation of macOS Ventura (currently 13.1), the update of the Sonos Controller app would fail systematically with the error message: Sonos update failed – an unexpected error occurred.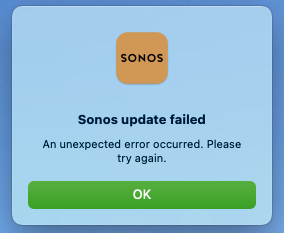 This can be resolved by adding some permissions for the Sonos Installer:
Open System preferences
In the navigation column on the left, select Privacy & Security
In the Privacy section, select App management
Make sure that the switch is on next to Sonos Installer. This will give the installer the necessary rights to update the app.