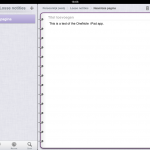 Last week, Microsoft released the OneNote app for iPad in the app store. It is the first version of the app, and still lacks some functionality I would like to see added, but it is a great first step. These are the things you should know:
the app is free, but is limited to 500 notes; if you want more, you can unlock this limitation with an 11,99 EUR in-app purchase. I consider myself a heavy OneNote user, and I am currently at 320 pages. So with some management, you can stay under the limit.
Notes are synced with Windows Live Skydrive, so you will need a Windows Live ID to use the app. Advantage is that you have an online backup of your notes, and you can even edit them on Skydrive in the web app.
If you use formatting extensively in OneNote, you will be disapponted that a lot of these features are not supported in the iPad app. You get plain text. There is some room for improvement here.
Written notes (ink on a tablet pc) are not visible in the iPad app. Sometimes the app crashes on pages that contain a lot of written notes.
There is also an iPhone version of the application. And if you are thinking about converting your entire Evernote archive to OneNote, my colleague Frank pointed us to a conversion tool. Although you might want to wait with that until the 2.0 version of the OneNote app is released…