Microsoft released a new version of its Learning Content Development System.
These are the new features:
compatibility wit Internet Explorer 9
enhanced keyboard accessibility for all Silverlight interactive elements
new sequencing activity topic template – where you have to put elements in the correct order
new card flip game topic template
Click the image below for an screencast of the new sequencing activity.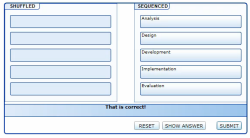 You can download the new version on http://www.microsoft.com/learning/en/us/training/lcds.aspx.
When you open an existing course, it is automatically upgraded to the new version.