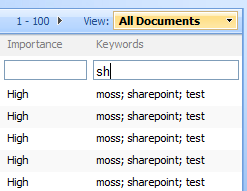 I had a great time in my last SharePoint Power User training, and as always, I learned a lot from the questions raised during the course. What do you think about this one: is there a quick and easy way to filter a long SharePoint list, without using Search, without using the column headings or the datasheet view?
I bumped into this nice extension on Codeplex: the SharePoint InstantListFilter. It adds lookup columns at the top of every document library and list, and you can use them to filter the list by typing in them; the results are shown immediately on the screen (jquery).
My development skills are non existing, so I can not evaluate the solution technically, but it is really a lifesaving functionality when you are browsing through long SharePoint lists (especially when there is no metadata or views defined).
Of course, there are some limitations:
it only filters in the displayed results
it is a feature activated on site level
If you want to see it in action, have a look at the demo.