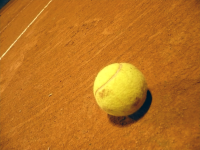 I was watching the interview of tennis player Yanina Wickmayer where she explains why she did not fill in her whereabouts in the ADAMS computer system. As a result, she got suspended for one year.
I do not want to take any position about this decision (there are enough Facebook groups that do that), but this story reveals some typical problems that need to be addressed when introducing a new software tool:
Communicate clearly: the "business rules" need to be communicated clearly, so that the user knows the policy and guidelines. For that, you use the proper way of communication with your users (oral, e-mail, …) Sending letters to the home address of a globetrotter does not fall under "proper way of communication".
Motivate: if your users know the philosophy of your application, why it makes things easier and what the benefits are, chances are much higher that the tool will be accepted.
Make it look nice:while applications are judged by IT people on their functionalities, the end users have a lot of interest for the "look & feel" of the application. If it looks good, your application will "sell better".
Leverage technology: a web application is a good choice for a global, world wide application, but "a pc connection to the internet" does not seem to be always available to the sporters. But I'm sure they all have a Blackberry. Why not make a mobile app?
Train and document: the ADAMS application is a great example where the use of e-learning would be very appropriate: lot's of users, spread over the entire world. Short demos, faqs, procedures…
WADA, Vlaamse Overheid, if you need any help, let me know. I see it as my contribution to Belgian top tennis.