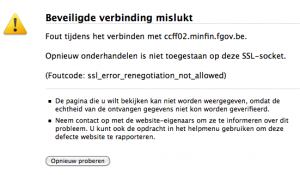 If you are trying to use the Belgian Tax-on-web application with Firefox 4, you might get an error message ssl_error_renegotiation_not_allowed when you try to log in with your Belgian eID.
This seems to be caused by a change in Firefox 4 regarding SSL authentication (more info on: https://wiki.mozilla.org/Security:Renegotiation).
It can be fixed by changing a preference in Firefox. Follow these steps:
Open Firefox
In the address bar, type about:config and press Enter
Confirm the security warning
Scroll down until you see security.ssl.allow_unrestricted_renego_everywhere__temporarily_available_pref
Double-click this line to set the preference to TRUE
Watch a brief demonstration of this procedure.
This should solve your issue. Changing this preference is a security risk, so it is a good idea to repeat the procedure and set the preference to FALSE once you are done with Taxonweb. Or you can add the URL of the sites to the preference security.ssl.renego_unrestricted_hosts to set this option for a specific site.